Vinobox – the online wine address
What wine do you like to drink? And do you ever buy different wine or do you stick to the one bottle you like so much?? Do you want something different, then Vinobox can help you.
Vinobox, wine as wine is meant to be.
A personal subscription
A subscription to a wine box. How good does that sound? You specify your taste and the amount of bottles.
And then you get a box of wine delivered every month. You can do this with Vinobox!
The online wine address
Wine that tastes good, without too much effort or money. This is what entrepreneur Flip Harmsma wants to offer family and friends. He founded Vinobox: the online wine address for enthusiasts.

"People often do not know which wine to choose, with the result that they often drink the same thing," said founder Harmsma. "This while there are very beautiful wines, which can pleasantly surprise you."
Vinobox delivers delicious wines, tailored to your personal taste, to your doorstep for free.
What is Vinobox?
Vinobox is a personal and flexible wine subscription. Based on your own tastes and the number of bottles you want to receive, each month you get a box of wine that makes you happy. Harmsma: "As an independent party we are not tied to the assortment of an importer or retail organization. The focus is really on the customer, the feeling and the right price/quality ratio of the wines."
Ease and simplicity
Besides quality, convenience and simplicity play an important role. You can order online, delivery is free and the delivery time is adjustable to your wishes. Are you a wine lover?
But have no time or inclination to research in the wine store, liquor store or supermarket? With the Vinobox you solve this in no time!
A gift for yourself or for someone else
Vinobox's flexible online wine subscription is perfect as a gift for yourself; you choose the number of bottles you want to receive, specify your personal taste preference. Then every month you get a box with wine that makes you happy.
As a gift for someone else, the Vinobox also guarantees a pleasant surprise; you personalize the gift by adding a personal message. You also give the special story behind the wine bottle as a gift. The box comes in a specially designed box and the delivery time is customizable.
This is how to give a complete wine tour that is sure to please.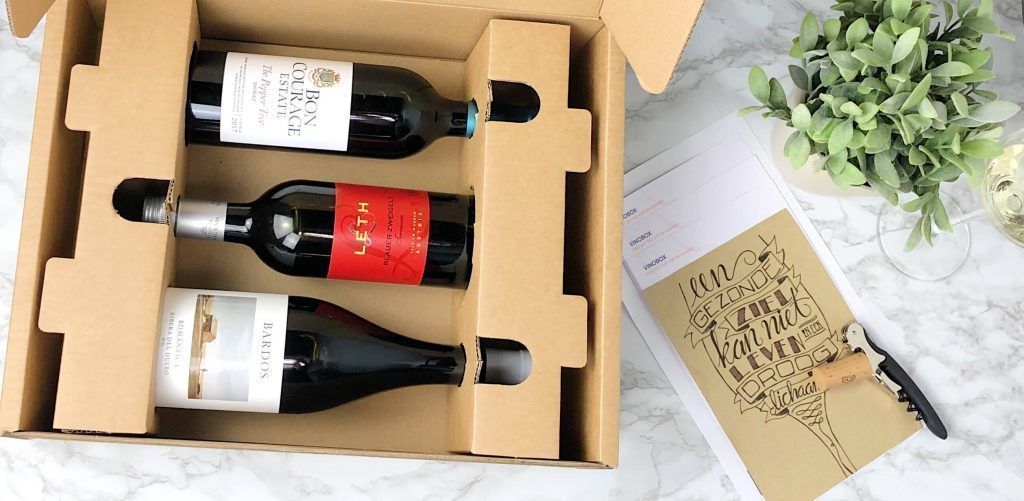 Convenience serves man
A lot of people are currently doing their shopping online, and don't blame them. How easy it is then to get a Vinobox every month as standard. You do not have to think about tastes yourself, because this is done for you. Whether we celebrate the holidays together this year remains to be seen.
But a good wine certainly belongs there!