Which swimwear suits your body well?
The choice between wearing a bikini or a swimsuit is very personal and depends on what you feel good in. But what swimwear suits your body well?
Swimsuit or bikini
I really did wear swimsuits, especially when I was younger. Until I discovered the bikini and since then I wear it when swimming and sunbathing. I did go with my figure in recent years in terms of bikinis's. For example, in recent years I wore bikinis with high bikini bottoms to camouflage my belly a little.
Funny thing is, now that I'm eating healthier, I can wear my old bikini with a bow on the sides (which a year ago made me look like a roast) just fine again. For me it also depends on how I feel when it comes to swimwear. That's why it's not strange that women often want to have a choice to choose from at that moment.
Swimwear for swimming or sunbathing
I must say that I am not really a fanatical swimmer. And this also shows in my swimwear. Indeed, I can imagine that if you swim a lot and love to swim, a swimsuit is more practical.
Well I certainly like swimming, on a hot day, on vacation. Then I like to take a dip in the fresh water. Although I usually get out quickly to dry myself.
Swimwear for everyone
Let me first say that you should wear what you like. A bikini or bathing suit, that is of course entirely up to you! What fits well and makes you feel good? However, today I would like to draw your attention to swimwear that suits a certain figure.
I chose five figures that are common among women, but of course there are many more body figures a woman can have. There are so many different women and fortunately so many different swimwear too. This time I have chosen to highlight the bikini. I saw super cool bikini's at LASCANA, the pictures below are also from this site.
On this site you will find swimwear as well as beachwear, lingerie and nightwear, among other things.
Do you have a pear figure:
Do you have a pear shape, i.e. narrow shoulders and a slim waist, but hips and fuller upper legs and buttocks?? Then a strapless bikini is very nice, but also a colorful or bright print looks good too. Are you a little insecure about your upper legs? Then choose a bikini bottom with a higher waist.
Your hips look smaller and you can cover up that possible belly.
An apple figure:
The apple figure is characterized by medium or fuller breasts and a wider waist. Both low and high cut bikini bottoms look great on this figure. You elongate and accentuate your upper body and the bikini bottom makes your legs look longer!
Bright colors or a nice print look good too! By the way, a high-waist bikini bottom will also look good on you, if you have an apple figure. Rather have more coverage?
Choose a swimsuit or tankini.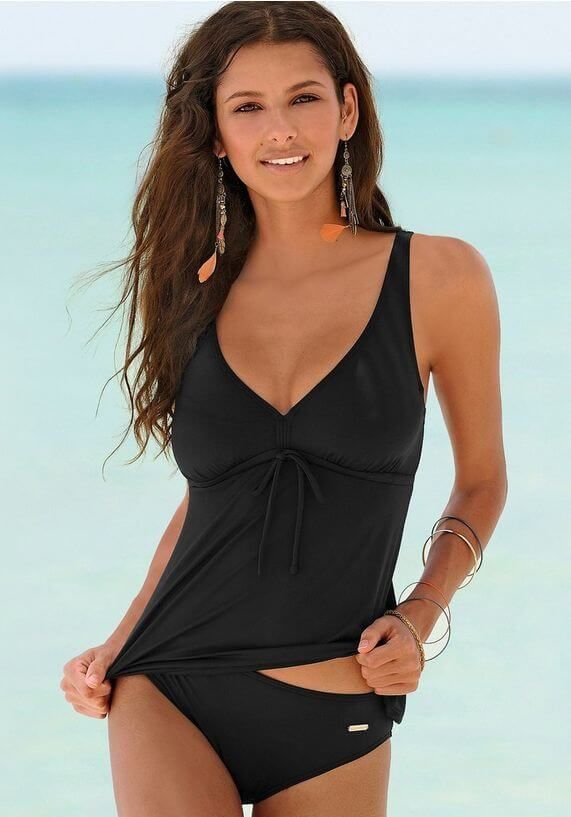 Which swimwear suits an hourglass figure?
If you have a narrow waist, wider hips and a good pair of shoulders? Then you are in possession of the super feminine hourglass figure. It is nice to emphasize your waist and accentuate your shoulders by choosing for example a halter top.
If you do not like a halter top because you have a larger cup size, choose a bikini top with underwire and straight straps.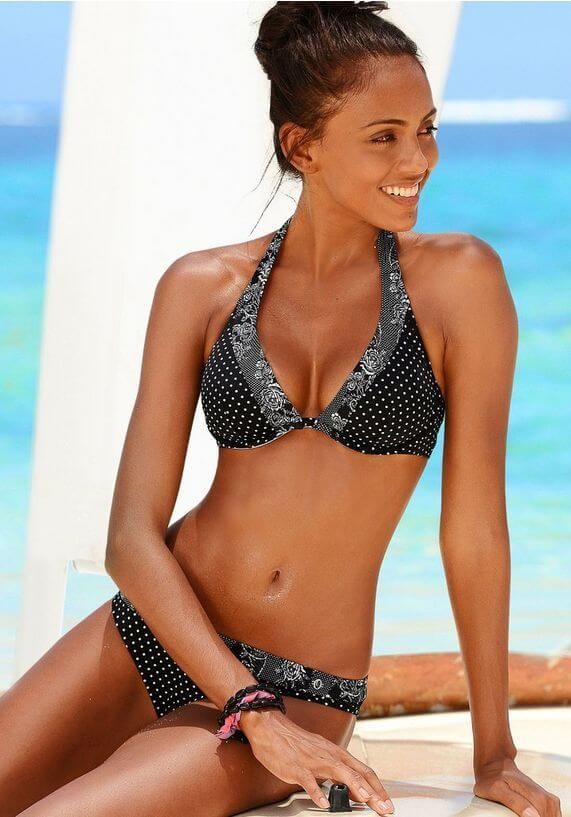 Athletic figure
If you have a narrow build and want to shape your figure where needed, you can choose swimwear with more ruffles, frills and/or prints to create more volume. Or go for a triangle top (with extra padding). To give your hips more shape, it is best to choose a small bikini bottom with strings on the sides.
The adjustable straps create more curves!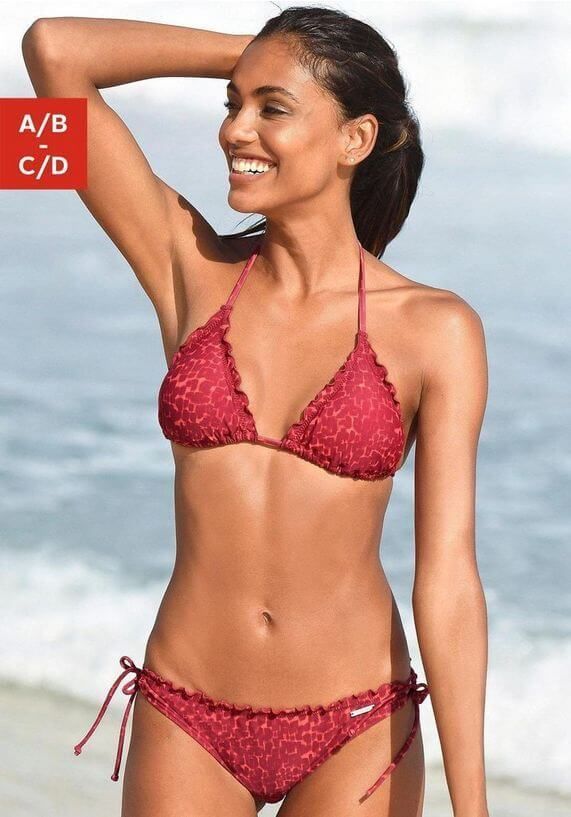 Do you have a diamond figure?
The name alone is beautiful, a diamond figure or V-figure. A fuller upper body and narrow hips and slim legs. It is then nice to put the accent on the bottom where you can choose bright colors, details, print and bows on the side.
For the bikini top it is best to choose solid colors and wider straps.