Pet food: good health starts with good nutrition
Whether you have a dog, cat or other pet, we all want to take good care of it. When we talk about good care, it's also about good nutrition. But what is good nutrition for your pet and what are the benefits of good nutrition??
Love for a pet
Did you know that more than 4 million households have one or more pets? And if you're reading this, chances are you have an animal in your home, too. So many different pets means so many different types of food.
Food you can buy at the supermarket, pet stores, webshops or at the vet. Important here is to look at what your pet needs.
Special food
Did you know that kittens, like puppies's, have special nutrient needs? After all, they still have to grow? This need depends on breed, age and temperament. For example, busy kittens or puppies'll need more energy than an adult pet that sleeps a lot.
Even for cats and dogs, their diets change with age. You can give a pet as it ages special food for 'seniors'.
Cat food from Iams
Our cat gets food from a brand that I buy through a web shop. Good food. I was asked to try a different brand of cat food for him. No problem. I received a bag 'Iams for Vitality' from Iams ( you pronounce this as aai ams).
Iams has high-quality dog and cat food. Quality is the foundation of the brand because they want to offer the best for dog and cat. Iams for Vitality is a line of dry cat food that includes food for kittens, adult cats and senior citizens. Consumers voted Iams for vitality product of the year for 2020. Conveniently, Iams can be found in more and more supermarkets.
This allows you to conveniently shop for yourself and your cat in the same store.
Difference in food
There is a big difference in quality dog and cat food. Dogs and cats are carnivores and therefore primarily need high-quality animal protein to stay healthy and vital. This bag of Iams for Vitility is high quality cat food, with fresh chicken and a high percentage of animal protein.
The bag lists the 7 health benefits of this food. These benefits are:
1. Healthy digestion (Feces are compact and smell less)
2. Healthy skin and shiny coat
3. Healthy urinary tract
4. Healthy teeth
5. Strong muscles
6. Support of the immune system
7. Healthy heart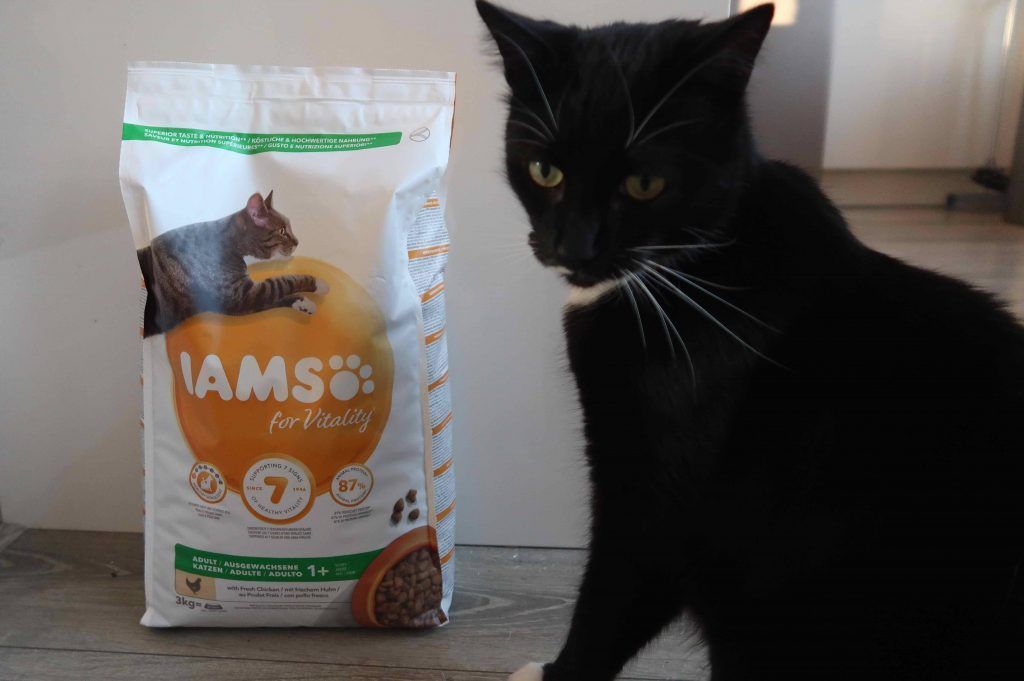 Giving your pet other food
Changing your pet's diet? Then keep in mind that they need to get used to this new food. This settling-in process can take up to four days during which you replace 25% of your current food with Iams each day.
A cat or dog's stomach has to get used to different food and this is how you prevent diarrhea.
Read carefully on the packaging how much food to give, you don't need that much of Iams. Feed from Iams may be a little more expensive to buy, but you use less of it per feeding.
Changes in your cat
I slowly got our cat used to Iams for Vitality. This went fine and I am very satisfied! I think he looks very healthy and his coat is shiny.
He is also happy with this food because the bowl is empty in no time and with all the health benefits, I am just happy that I am taking good care of him this way!