What made me happy 50 water fun
Because of the summer vacations, it is sometimes a little hard to find time to enjoy blogging. The last 'What made me happy' has been a while ago now. Fortunately, today I can share with you another nice weekly summary in which one theme did take center stage; water fun. In all sorts of shapes and ways.
Take a look at our week?
What made me happy 50 water fun
Last week it suddenly occurred to me that the little girl had received a very cool Duplo house after her birth. Duplo is sturdy, has no small parts and has nice colors. So Mrs. thought it was super fun to play with it and really did the dolls in the house.
Over the weekend we all went out for a bike ride in the village to get something to eat. It's always fun, the kids love bikes and eating out is also something they enjoy.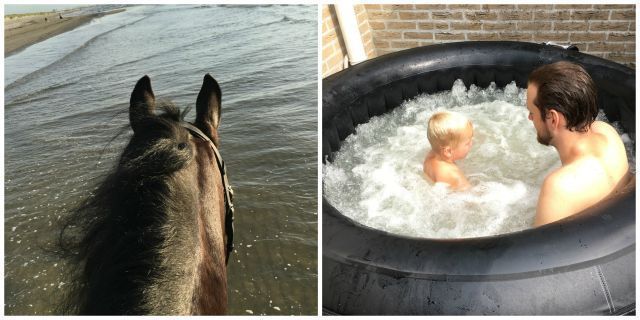 On Monday the week began full of water fun. We went out with seven people, enjoying the beach with the horses. Stamping through the sea and trudging through the sand.
I can enjoy that so much.
The next day I went to my parents again. The little man enjoyed himself with his hero, my brother. Together they had a lot of water fun in their bubble bath.
Try to get a toddler out of that again.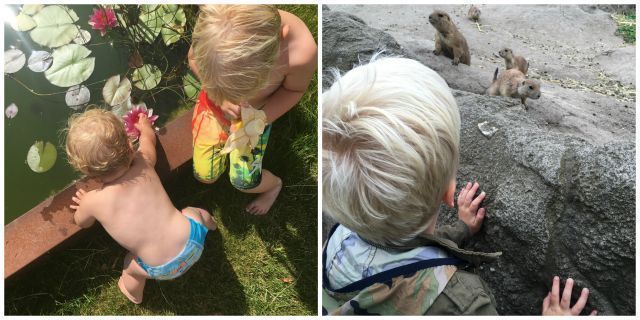 The villains played with water at home in the garden. Madam discovered the water lilies in the pond. They do have very nice colors.
Luckily she still let them stand.
Together with a friend we also went to Blijdorp one morning. We have a subscription so we often go for a few hours of animal watching. The prairie dogs were eager and curious.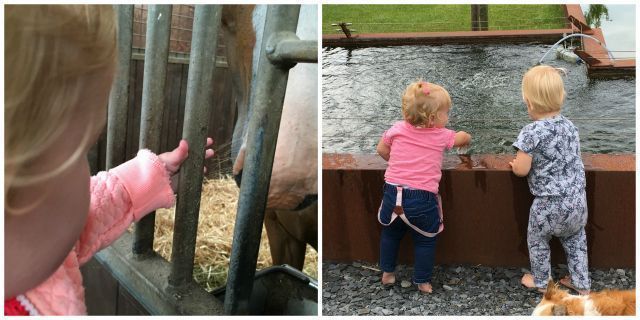 Of course I also spent many hours in the stable with my horse. Our youngest has also caught the horse bug. Madam doesn't say daddy yet but she says horse. 'Cake, cake!', she then exclaims. This mom can't wait until the youngest wants a pony for her birthday, hahaha. (I hope Dad is not reading this)
Saturday we celebrated the husband's birthday with friends. The little ones enjoyed the water in the pond and jacuzzi. Splashing in the water and feeding the fish.
What a lovely day.
How was your week? Did you have so much fun in the water?
♥ ♥ ♥ Fulltime Mama uses affiliate links. This means that if you click on one of the links, we might get a small commission on it. It costs you nothing extra, but it does give us something.
With this revenue we can maintain this website. We also sometimes get paid for an article or receive a product in exchange for a blog post. As a result, our opinion remains unchanged and honest. For more information you can read the disclaimer. ♥ ♥ ♥